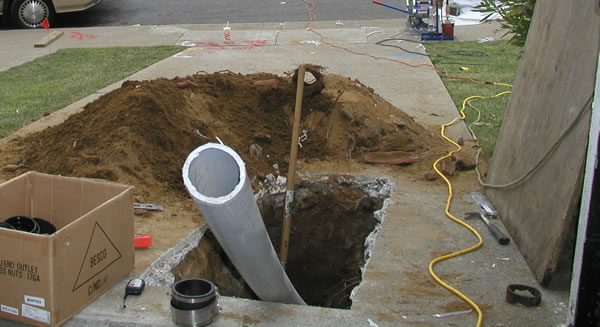 Trenchless sewer repair is a method of repairing or replacing sections of underground sewer lines without actually having to excavate or dig up the property to access the sewer lines.   You can imagine most home and property owners aren't very eager to begin excavating on their property.
There are two different types of Trenchless Sewer Repair that would be beneficial for a homeowner with a collapsed or blocked sewer line in the Cleveland area.
Trenchless Sewer Pipe Lining Method
Do you love science? We do! And this method of sewer repair is actually pretty cool. With the sewer pipe lining method also known as Cured-In-Place Pipe (CIPP) we are actually creating a new pipe within your existing sewer pipe using special epoxies and resins.
The special liner that we use will be saturated with epoxy and then pulled into place in your existing and damaged sewer line. There is a bladder inside that we then carefully inflate inside the sewer pipe itself and then the epoxy actually cures into a brand new pipe inside your old pipe.
The bladder that was used to help the new pipe take shape, is pulled out leaving behind a structurally sound new sewer pipe. To make sure everything has been completed properly your plumber will usually do a 2nd video camera inspection to make sure the repair has been completed correctly.
Trenchless Sewer Pipe Lining
No Digging Up Property.
Creates a New Sewer Pipe Within Your Existing Line.
Restores Structural Integrity of Sewer Line.
You'll need to consult with a professional sewer line repair plumber to see if the trenchless sewer pipe lining method is for you and your specific situation.  1st Choice Plumbing and Drain can help you determine which method would be best for you.  Call: 440-812-1888 to setup your appointment.
Trenchless Sewer Pipe Bursting Method
Pipe bursting is another trenchless sewer line replacement method. For pipe bursting repairs we are actually destroying the old pipe with a special large, cone shaped head that is pulled hydraulically with a steel cable through the old sewer pipe. This breaks up the old pipe underground but at the same time we'll be pulling a new seamless HDPE sewer pipe into it's place.
This is a brand new HDPE sewer line that will likely last the life of your home.
Pipe Bursting Trenchless Sewer Repairs.
No Digging Up Property.
Brand New Sewer Line.
Seamless New Sewer Line.
With this method the only digging that will take place will be two small holes (usually about  4′ in diameter). We'll dig one hole at either end of the sewer line needing to be replaced. The special steel cable is inserted at one end of the sewer line and pushed through to the other end. We then attach the special cone shape bursting head to one end of the cable and our special hydraulic system to the other.
How Much Does Trenchless Sewer Repair Cost in Cleveland?
When the trenchless pipe bursting method of sewer line repair can be used it typically saves the homeowner 30% or more of the cost of a traditional sewer line excavation. Considering the average sewer line excavation for a Clevelabd home starts at about $5000 and moves up from there, the trenchless method is very attractive but unfortunately won't work with every scenario and for every broken or deteriorated sewer pipe.
Trenchless sewer repair typically costs $80-$250 or more a foot depending on the scope of work and what is actually required. The shorter the pipe replacement usually the more expensive it is.
Who Does Trenchless Sewer Repair in Cleveland?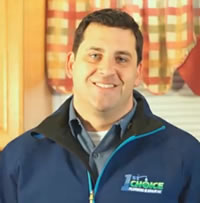 1st Choice Plumbing and Drain is a full service plumber based out of Cleveland, Ohio. We specialize in sewer line repairs using both the trenchless method and with standard excavations and replacemement of the sewer line. If you have a complex property, where digging up (and restoring) your landscaping would cost more money than the repairs itself then the trenchless method is your best bet.   Call: 440-812-1888 to setup your appointment.