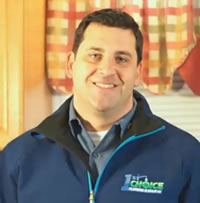 Often homeowners don't think about getting a second opinion on their plumbing system or plumbing repairs.  They usually trust the plumber they are dealing with and the repairs are often small enough in cost where it's not worth it to shop around it.  For example, if a plumber gives you an estimate of $100 to repair your sink, and you think another plumber will do it for less, you've already wasted the first plumbers time, for $20.  These type of scenarios are hardly worth a 2nd opinion.
However, if your plumbing problem or repair estimate includes the word "excavation" or "dig" or any other description of digging up your propery or extensive plumbing repairs exceeding $2000 or more then, YES… You should definitely get a second opinion from another qualified plumber, preferably one who can inspect your system with a sewer and drain camera.
Why Get A Second Opinion On Plumbing Repairs?
Plumbing systems, although fairy simple, are far beyond the technical skills of most homeowners.  There are many plumbing companies out there who keep afloat by pushing very expensive (often unneeded) plumbing repairs that involve extensive excavation of the sewer system.  As dire as your situation might be, it's always best to get another plumber on scene to diagnose the problem and offer solutions too.  Often the first company may have neglected to tell you specifics that could alter your avenues of available repair, instead choosing to tell (sell) you the worst case scenario.
 What Are Your Other Plumbing Repair Options?
This exactly why you get a second opinion!  Worst case scenario the plumber is able to confirm what the first plumber told you, but might also be able to offer you other avenues of repair.  The best case scenario is your plumber is able to diagnose the problem, or discount the previous diagnosis altogether and you're out for the service call.  That's a lot better than spending $10,000 on an excavation to your sewer system.
How Much Will a Second Opinion On My Plumbing Cost?
It's tough to give a one-size-fits-all answer to this question.  Your second opinion cost will vary depending on how much time the plumber spends diagnosing and documenting the problems and what diagnostic equipment is used to inspect your sewer or plumbing system.  A good rough estimate would be $100 – $300 for the "average" second opinion on your plumbing system.  It's certainly not worth it for smaller projects but if your plumbing estimate is for $2000 or more, a second opinion might save you money.
Who Provides Second Opinions On Plumbing Repairs in Cleveland, Ohio?
1st Choice Plumbing and Drain is a full service plumbing and drain repair contractor who offers Free Estimates with No Trip Charges. Whenever possible 1st Choice will provide you with multiple options to choose from when determining how to solve your plumbing problem within your budget.