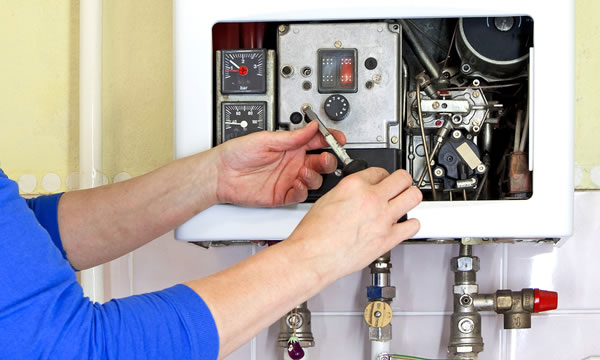 For most Cleveland homeowners, hot water is an absolute necessity that we need to have every single day, usually several times a day.  Traditional water heaters essentially run on stand-by constantly keeping your water hot so it's ready when you want it.  This is very inefficient, and eventually someone would come up with something better.  The tankless water heater.
Now instead of keeping the water constantly hot (and wasting energy doing so) the water can be heated on demand, at the moment that you need.
Tell Me More About Tankless Water Heaters!
Tankless water heaters are now quite popular and you can find a wide variety at your local hardware store.  Tankless water heaters also known as demand-type or instantaneous water heaters, heat the water at the moment that you need it.  Because the water is only heated at the time you need it, you won't be wasting money on constantly keeping your old-school hot water heater going.
How Do Tankless Hot Water Heaters Work?
They work sort of how their name sounds… They are tankless!  Meaning that they do not store any water.  Instead when you turn the hot tap on the cold water travels through a pipe into the tankless water heater. Then, either a gas burner or an electric heating element will rapidly heat the water to a set temperature.
The result is a constant supply of hot water, heated on demand.  There will be no need for your standard 60Gal or 80Gal hot water tank anymore unless you have enormous hot water demands.  In which case you can choose a specific tankless water heater capable of delivering the flow you require.  Sometimes it's not uncommon for two to be installed at once to meet the demands of a large family or household.
Tankless Hot Water Heaters Are Commonly Used With:
Bathrooms located away from your main building. (shop/garage)
Appliances such as dishwashers and clothes washing machines.
In-law suites and secondary accommodations.
What Are The Advantages Of A Tankless Water Heater?
The average home (let's say a family of 3 or 4) likely uses around 40 gallons or less of hot water daily.  In this situation a tankless water heater could be 24%-34% more efficient than a traditional system.  For homes that uses a lot more water such as 80+ gallons per day then a tankless system will be 8%–14% more energy efficient.  You can increase the efficiency of your system by installing tankless water heaters at each specific location where hot water is required.  This spreads out the demand and can increase savings substantially.
For a small family with small-to-medium demand for hot water a tankless hot water system will help lower your energy bills.  If you choose a qualified ENERGY STAR® tankless water heater they estimate that a typical family can save $100 or more per year with a qualified tankless water heater.
What Are The Disadvantages Of Tankless Water Heaters
One of the main disadvantages right now is the fact that this technology (although many years old) is still relatively quite new and the costs to manufacture have not come down to the point where it's a no-brainer for most homeowners.  Another disadvantage mainly only applies to high-demand hot water users and that can be a lack of flow.
If you have a large family or use a lot of hot water then a tankless solution might need to be researched and planned out accordingly if you are after energy savings.
When energy savings are the goal one must also consider the cost of operating a pilot light if you're tankless water heater is a gas fired unit.  The pilot light constantly being lit to fire the heater can waste energy and offset any of your savings if the price of gas rises.  There are models with a standing pilot light, that can be switched on/off as the unit needs it.
Choosing The Right Tankless Hot Water Heater
There are many choices of tankless water heaters on the market and you're going to need to know a few things before you just go out and grab one.
For example, what type of fuel will be using to power the unit?  Electricity or gas?  Will you be able to run gas piping to the unit?  What about easily accessible electricity?  Do you have certain space limitations?  Some units are compact while others have a larger profile.
Sometimes the cost of installation can be more than the unit itself so it's important to consider these factors.
Can You Install A Tankless Water Heater Yourself?
Generally it's not recommended because of the obvious safety issues involved.  You will need intricate knowledge of plumbing systems, gas systems and gas piping and electrical wiring.
You'll probably agree this is a disaster waiting to happen for the average Do It Yourselfer and could result in a fire, an electric shock, or even worse.
By contacting a qualified local plumber in your area you will ensure you get the right tankless water heating system for your application and you know it will be installed properly, safely and with a warranty should the unit ever fail.
Whenever gas piping or gas appliance hook-ups are involved most city building codes require the work be signed off by a professional plumber anyways, so you'll need to check with the local building codes in your area if you are really going to try and do this yourself.
Who Installs Tankless Water Heaters In Cleveland, Ohio?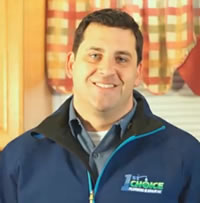 1st Choice Plumbing and Drain is a full service plumbing contractor based out of Cleveland, Ohio.  We specialize in installing tankless hot water heaters into new buildings along with retrofitting tankless water heating systems into older homes and buildings.
When you choose 1st Choice Plumbing and Drain to install your tankless hot water heating system you are partnering with a professional plumber.  We will take the time to answer all of your questions about a tankless system along with helping you plan out the best location, the best unit and finally completing the installation for you.
If you'd like to enjoy the benefits of instant hot water then please give us a call today!