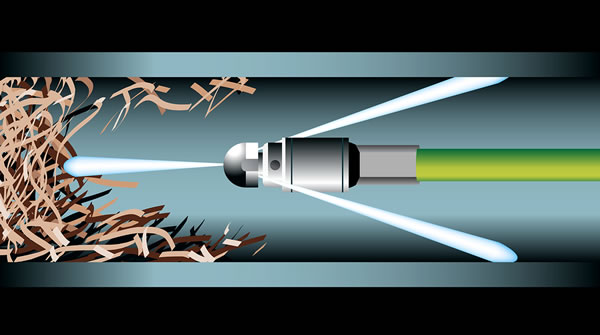 If you're plumbing system is really clogged deep inside from years of neglect then you're going to need a hydro-jetting service to clean out the line for you.  The hydro jet or otherwise known as a water jetting machine is one of the most efficient tools that a plumber has at their disposal.
What Is Hydro Jetting For Sewer and Drain Lines?
Water Jetting or Hydro Jetting as it's also called is simply shooting a high velocity stream of water under great pressure into your clogged drain.  There is a spinning head (there is actually different heads we can use) depending on the clog and type of drain system we're cleaning.  The high pressure water stream blasts away years of accumulated grease, oils, scale and other buildup that might be inside your sewer and drain lines.
The regular practice of jetting out your lines can keep you from having costly repairs later on due to broken pipes or clogs that require ground disturbance work to repair.
Who Needs Hydro Jetting Services?
If you own or manage a building, then chances are pretty good you'll need hydro-jetting services a few times over the lifespan of your building.  This is especially so for certain types of businesses and facilities that are pushing lots of food waste such as grease, oils and other solids.  If you have a busy household with 6 or more people then you would also be a candidate for hydro-jetting services.
Hydro Jetting For Restaurants and Commercial Kitchens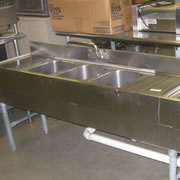 Restaurants and commercial kitchens frequently have plumbing and drain problems because of the large amount of waste going down the drains.  Hot grease and deep frying oils going down the drain eventually cool off and become a solid again, causing extensive build up within the walls of your drain system.  Over time this will continue to build up and eventually will get blocked.
A regular hydro-jetting maintenance program every few months will keep your drains clean, and functioning properly so your business can too.
Hydro Jetting For Townhomes, Apartments and Home Owners Associations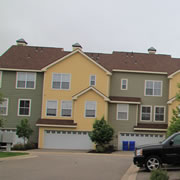 Lots of people utilizing the same sewer and drain system (to the city) can equate to big plumbing problems if the system is running efficiently all the time.  When you manage a large townhome or housing complex you have almost no control and no idea what's going down your drain systems on a monthly basis.  Bathroom accessories, toys, potato skins, female products, clothing you name it we've likely found it in a plumbing system before.  It would be a very wise preventative maintenance measure to have your system hydro-jetted every few months or at least once per year depending on the size of your townhome or apartment building complex.
Hydro Jetting For Home Buyers and Sellers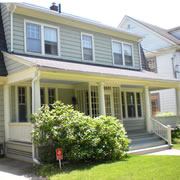 If you're selling your home consider having a proper plumbing inspection done.  We can inspect your plumbing with a camera, determine the amount of scale and build up to see if it's necessary and then hydro jet the lines for you.  The benefit is you'll be able to advertise that your plumbing has a clean bill of health.  This is especially important on an older home, or an especially large home, with a large family.  If you are considering buying a home then you really should have this done if the previous owner hasn't already.  At the very least have a sewer and drain inspection done with a camera so you can determine if there is any damage or to the system or items that need attention.  It could potentially save you thousands of dollars down the road.
Maintain your drains with a regularly scheduled maintenance program to keep your system from experiencing nasty clogs and backups into your home or facility.
Cleveland, Ohio Hydro Jetting Services
Toilet Drain Jetting

Sewer Line Jetting
Commercial Hydro Jetting
Hydro Jetting For Restaurants
Hydro Jetting For Hotels
Hydro Jetting For Apartments and Townhomes.
Who Offers Hydro Jetting in The Cleveland Area?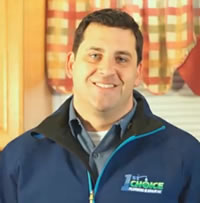 1st Choice Plumbing are your local Cleveland hydro jetting experts.  It doesn't matter if you want something as simple as a single sewer line hydro jetted, or several sewage lines running out of your building or facilities.  From hydro-jetting your single family home to an entire housing complex, apartment or townhome.    We also offer hydro-jetting and drain maintenance packages to Restaurants, hotels and more.
We can complete any type of hydro jetting and drain cleaning project you may need finished in the Cleveland area.
"" type="round" icon="star"]We understand you have many choices when it comes to choosing a hydro jetting contractor in the Cleveland area.  We just want you to know that when you choose 1st Choice Plumbing and Drain you are supporting a small, family-owned local plumbing business.  We're big enough to solve your complex sewer and drain problems quickly and for a very fair price and we're small enough to care about every individual customer so you are completely satisfied with our services.