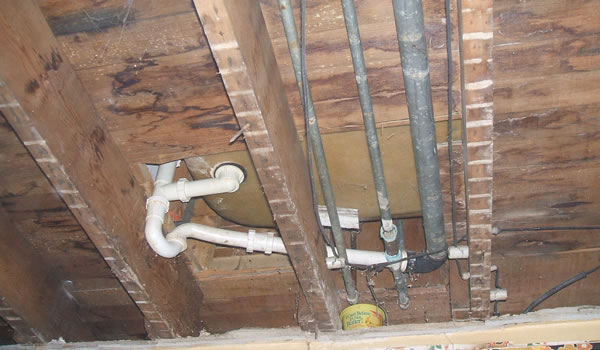 Leaks in your plumbing system or water system are an expensive plumbing problem most people don't want to have.  If you have an older Cleveland home or building, it's a pretty good chance the plumbing might be older as well.  As your plumbing system ages the materials can deteriorate, your building could settle (move slightly), or corrosion could set in.  When these things happen leaks can become evident.
Plumbing leaks aren't something to ignore either.  If your plumbing leak develops into a significant water damage problem you may be surprised to learn that your insurance might not cover repairs.  Most insurance companies look at plumbing leaks as something that must have been present for a long time to cause damage to your home.   For this reason it's important to get plumbing leaks addressed immediately if you think you might have one in your home or building.
There are two types of plumbing leaks you might experience with your Cleveland property.  
Slab leaks (you don't want these) occur below or in your homes foundation.  The other is what we refer to in the industry as "pinhole" leaks and these are your normal plumbing leaks one might experience if they accidentally drilled into a plumbing main, or installed a cheap water filtration system, or corrosion finally caused a failure.
Small leaks above ground are much easier to repair than a slab leak that will require extensive diagnosis and repair work.  If you've already found the source of the leak, then Great!  You'll save your plumber a lot of time.
What Causes Leaky Pipes To Begin With?

As mentioned above your plumbing system can just get old, as the earth moves, your house and foundation settle it can cause underground pipes to move.  There isn't much give in older plumbing systems so the pipes end up cracking or bursting from the pressure.  Another cause (and this is probably the most common) would be corrosion.
If your plumbing system is 20,30,50+ years old, corrosion from the drinking water being in contact with copper pipes could easily be the source of your slab leak or plumbing leak.  This is a common problem all across the country, not just the Cleveland area.
What Is a Slab Leak and How Can It Be Fixed?
Slab leaks are leaks in your water or plumbing system that occur in your foundation or under the concrete foundation of your home or building.  Obviously because slab leaks are encased in concrete and other building materials it's not a small project by any means.  If your plumber determines that a slab leak is your problem only after diagnosis and finding the leak will they be able to discuss repair options with you.
If your leak is small, and your plumber is confident it will work the leak can be patched with a special epoxy.  The success rate of this repair is very high and it will last for many years but it will only be an option if the leak, or hole in the pipe is fairly small.  If an entire run of pipe or important joints are corroded then this won't be an option.
How Do You Detect Where The Leak Is?
Depending on the severity of the leak (or if there even was one to begin with!) they can be fairly difficult to detect.  Professional plumbers use their knowledge of local plumbing systems (applicable to homes in your area)and  special electronic equipment with inspection cameras to locate the slab leak.  This process can take minutes, sometimes hours, or sometimes more than a day of exploration.  Every situation is different, ideally we find the leak and come up with some repair options in the first day.
How Much Does It Cost To Find a Plumbing Leak?
The cost to find the leak in your plumbing could be anywhere from $150 – $500 depending on how much time the plumber must spend and what diagnostic equipment is used.  If it's a pinhole leak in your wall somewhere then you're not going to be out a fortune to repair it.  If you're looking at a sizeable failure in one of your water mains in the foundation, then unfortunately it's more expensive.
How Much Does It Cost To Fix a Plumbing Leak?

If it's a leak in the plumbing inside your home then you might be looking at a $200 – $500 dollars for a plumber to complete the repairs.  Again, these are just ball park numbers, that don't take into account your specific situation.  It might be less, it might be more but it will be in the hundreds.
If it's a slab leak that you're faced with then it's going to be more expensive to fix.  Usually starting around $2000 and going up into the many thousands of dollars.  Again the complexity of your specific situation and the repairs needed, will dictate what the final cost will be.  If you've been told by your plumber that you have a slab leak, it might be time to consider a 2nd opinion from another qualified plumber just to be sure.
Who Finds and Fixes Plumbing Leaks in Cleveland, Ohio?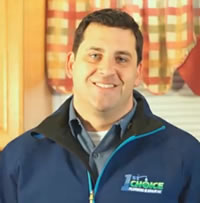 1st Choice Plumbing and Drain is a full service plumber specializing in slab leak detection, water line leak detection and repairs.  If you suspect you have a slab leak or another leak in your plumbing or water system then give 1st Choice Plumbing and Drain a call today and we'll come out and locate the leak and come up with some sensible options for repair.